The February Edit 2017
In the wake of Valentines day we're here to share the love with some fabulous hair and beauty offers, just call us cupid!
We think Valentines day shouldn't just be a day for couples, but a day that we all treat ourselves. So go on, spend some time this month giving love to the most important person in your life - YOU!
With a fantastic range of the most up-to-date hair and beauty treatments, we've got everything you need to be preened, pampered and rocking a lit-from-within radiance to rival beyonce's amazing pregnancy glow!
HAIR NEWS
Discover Aura Botanica
We've all become much more health conscious and concerned about what's in the products that we slather into our skin and hair. This super exciting new Kerastase range is 98% natural, with no sulphates, parabens or silicone. Even without all these ingredients it doesn't compromise on results. We can't wait for it to hit the salon shelves.
FREE Gift With Purchase
With any two Kerastase purchases you will get your choice of one of their beautiful scented room diffusers. These captivating room fragrances will stimulate your senses and create a relaxing yet magical ambient atmosphere in your home.
Coming Soon .....
50% OFF Fusio Dose Treatments In March!
This is an instant hair transformation ritual. It begins with an in-depth consultation to diagnose your hair condition. Unlike any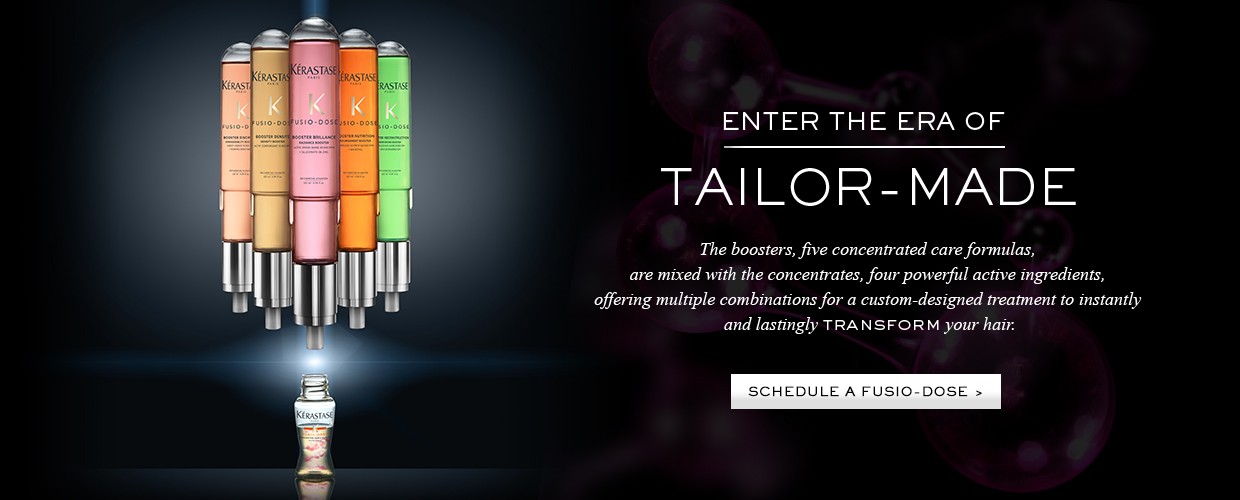 other treatments from Kérastase, Fusio-Dose allows for multiple hair concerns to be targeted with one concentrated active formula.
Choose from 4 concentrés to target your primary hair need alongside one of the 5 powerful boosters to target your secondary need. Watch your hairstylist twist, mix and fuse your chosen Fusio-Dose before your eyes. Hair is stronger, looks shinier, smoother and feels thicker, softer.
BEAUTY NEWS
Beauty Room Makeover
The lovely Roisin and Nicole will be looking after our beauty clients in our two fantastic new beauty rooms. We're so happy to have these gorgeously modern beauty rooms that are the perfect setting for a relaxing pamper!
Don't Forget Your Final Christmas Card Offer!
No outfit is complete without fresh lick of shiny Shellac, so don't miss out on the final offer on our client Christmas Card. Get an amazing £5 OFF a Shellac manicure. Valid until the end of February 2017.
50% OFF All Massages
Melt away all your strains and stresses with a relaxing massage. We're running a massive 50% off all massage treatments with either of our therapists Roisin and Nicole until the end of February.
Coming Soon ...
50% OFF All Shellac Nail Services (Including Toes!) In March.
You will have absolutely no excuse to have dry, brittle and chipped nails with this amazing offer! It's the prefect treat for your mum this mothers day - enjoy it together with a glass of fizz, it's the perfect pamper!