My #ColorfulHair
Go bright or go home is the style for Summer 2017. From vivid violets to bold blues, L'Oreal My Colourful Hair has taken hair colour to the next level and we are LOVING it!
If you tuned into our Facebook Live session with the Artistic Team you will have caught all the chat about #ColorfulHair and our models' amazing colour makeovers as we demonstrated THE hot new look for summer from L'Oreal. Check out the main pic from left to Right: Hannah created by Ashley using toned down Sunset Coral, Eve created by Hayleigh using Pink Sorbet and Fiona created by Emma using Pink Sorbet and Electric Purple.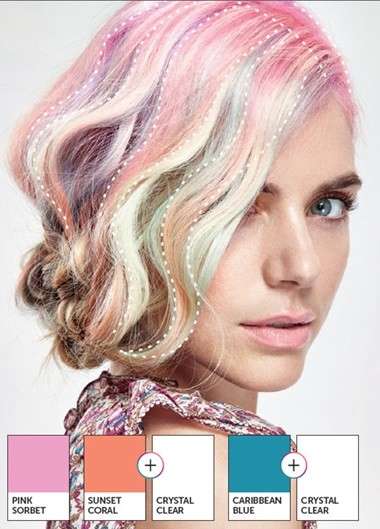 Available in eight bright and brilliant intermixable shades, #COLORFULHAIR from L'Oréal Professionnel is a brand new in-salon, colour palette which offers 1,000s of bespoke and personal colourful results. Whether it's soft Pink Sorbet or Hypnotic Magenta, the possibilities are endless!
The Crystal Clear solution provides you with the opportunity to reduce the intensity of the colour for more pastel tones, or for those more daring, introduce them to the hottest colour variants of the year.
Even if you have dark hair and you think you can't do colourful, the greens and blues will show up in most colours and jazz up your tresses.
If you're brave enough, you can even go one step further by having a mix of colours and unleashing your creativity by channelling the mystical mermaid and unicorn inspired styles. And why not?! SS17 is all about standing out from the crowd and trailblazing. Think Katy Perry's new buzz cut and Cara Delevigne's futuristic Met Gala hair style; it's all about the brave and bold.
So come on, this is the perfect opportunity to try out something new, and you never know, Hypnotic Magenta might just be your perfect match!