Steph Becomes new Salon Manager
Hi Everyone,
Steph here this month with a whole host of exciting news!
I am delighted to inform everyone that I have been promoted to Salon Manager. In fact, I've been in the post for almost two months now, settling in before I made my big announcement. I am completely thrilled to have been given this opportunity to help shape the salon and lead our amazing team into great things.
The role has been a natural progression for me; I started with Copperfields almost ten years ago when I was only sixteen and since then my career has seen some exciting times. I was part of the L'Oreal Evolution Team which took me to Barcelona, Madrid and London, I competed in the L'Oreal Colour Trophy making the London finals twice and I taught in Northern Ireland as part of the L'Oreal Team. When I look back I realise that this all allowed me to get out and spread my wings while having a base here in Copperfields. I am so thankful that I took full advantage of the opportunities on offer, travelling about and enjoying the fact that I was learning from some of the best in the industry.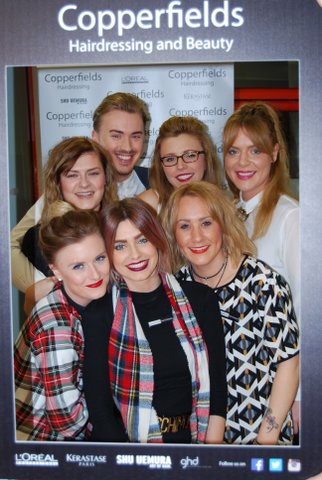 A couple of years ago I felt ready to develop all of these skills here in the salon and I took on the role of heading up the Artistic Team – and I'm pleased to say I'll still be doing this alongside my manager's position. I think that having the extra responsibility, working with the younger members of the team and getting out and doing all the great events and shows we've been part of us has helped me grow professionally and acted as a stepping stone for my new position.
The job is everything I wanted it to be; having an overview of the salon and ensuring that it runs smoothly day-to-day is the main focus and its really opened my eyes to all the tiny details that go into making Copperfields great. As stylists we're trained to pay attention and make sure we're delivering the very best experience for our own clients. As a manager you have to help support the stylists, nurture the apprentices and make sure this happens for ALL the clients! So it's a much broader vision you need to have; I've been dealing with things I didn't even know were there before! I just love it.
I also think that starting the job now, while we're in a growth period with the upstairs development going on, is perfect for me. It means I'm able to learn what I need to know and then we'll add another floor and the role will grow naturally. Being able to take charge of decisions and own them is really empowering and my confidence is growing all the time. I think in a salon like Copperfields it's important that the manager has come up through the various different levels; I feel as though I can really identify with the apprentices and understand fully what the stylists need to support them in their roles.
For instance, just recently we've all been working to help Craig, Hayleigh and Ashley in their Colour Trophy experience and to have been in Glasgow as the salon manager, watching on as Ashley's name was announced as the Scottish Winner for the Men's Style Award was amazing! I was so happy for her and so proud of what she's achieved. She'll be joining Craig who's shortlisted for the Young Colourist Award and heading to London for the big finals night at the start of June. I'm feeling nervous for them!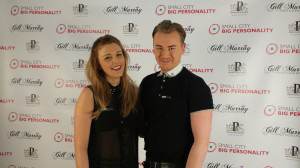 I've been working with L'oreal again myself, doing their Colour Specialist Diploma. This is the highest qualification in the industry and it's recognised worldwide. You basically learn everything! It's a three month course with weekly classes which I do on my day off on a Monday. There's a lot of home studying and it's really hard work; but it's so interesting and I'm learning so much that its worth every last minute.
Last week we were dissecting hair, learning the science and chemistry behind our products. We've looked at selecting colour based on everything from eye colour depth to natural hair tones. There are also classes on Brand Focus and on the salon as a brand so it's been great for my new manager's role. I think doing intense study at this level takes your knowledge and experience and really explains WHY you do things a certain way rather than just how to do them.
No-one else in the salon is Colour Specialist trained so I'm learning new techniques and sharing them continuously. That's the great thing about the team here; everyone is keen to know more. We all work together and ask questions, eager to help and pick up new ideas. It's great for me because I'm chatting about it all the time so it helps me retain the information – it's like studying without trying! And I am a perfectionist so I like to study hard. I expect to get the highest marks and do my absolute best because I really care about this.
I finish my studying and sit my L'Oreal Colour Specialist exams in June. By then I'll have celebrated ten years working with Copperfields and have three months as Salon Manager under my belt. And if I can top all of that by cheering on Craig and Ashley winning at the London Colour trophy finals on the 1st June then I'll be very, very happy indeed!
Before I go, I'm going to remind you all to come along and see the Artistic Team at the Small City Pamper Lounge on Saturday 25th April where we'll be offering curls, hair up, and quick fixes with all donations going to Breakthrough Breast Cancer. Get your hair done for a night out and help a great charity – that's a win win right there! You can find out more about it here.
Hope to see you all soon,
Steph x